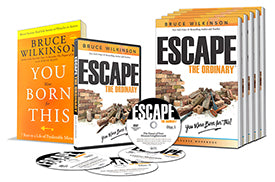 "Escape the Ordinary" Leader's Kit
Retail Price:
$ 79.99
| Ships Next Business Day.
(School Teachers & Admins:
This course
is now ACSI approved for .96 CEUs! Click here
to learn more.
)
Escape the Ordinary is based on the powerful book, You Were Born for This, by New York Times Best-selling author and teacher, Bruce Wilkinson. In this groundbreaking course, Bruce reveals how to experience the miraculous intervention of God as an everyday occurrence.
In his creative, story-driven, highly motivating style, Bruce reveals how you can recognize God's promptings, learn the "protocols of heaven" and see God move through extraordinary ministry opportunities He sets up.
Escape the Ordinary. Informative. Motivating. Life-changing. You will never be the same.
Need More Workbooks?
Order additional workbooks for your class or small group here.
Includes
Three DVD's fully mastered with eight teaching sessions plus a ninth bonus highlight/review session.
One DVD-ROM with customizable promotional item files including a video promotional, bulletin insert, poster, course reproducible graphics, and PowerPoint slides.
You Were Born for This Softcover Book (244 pages) by Bruce Wilkinson.
Five Full Color 79-Page Course Workbooks with fill-in the blanks that follow along with the video plus beautifully designed charts, quotes and many other features.
---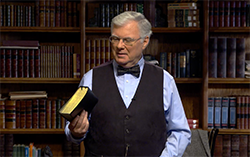 Get a Free Video Teaching Segment
When you subscribe to receive Teach Every Nation updates!
Subscribe to get special offers, free giveaways, and once-in-a-lifetime deals. We value & respect your privacy.