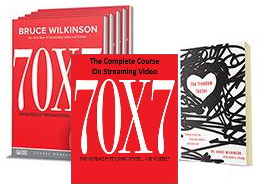 70X7 LEADER'S KIT
Retail Price:
$ 79.99
| Ships Next Business Day.
70X7: Finding Peace by Forgiving Others... And Yourself.
(School Teachers & Admins: This course is now ACSI approved for .95 CEUs! Click here to learn more.  Pastors and Church Leaders:  You might prefer our cost-saving  70X7 Churchwide Campaign Kit, which includes 10 workbooks and very helpful downloadable resources.)
A Bible-Based Video Curriculum with Bruce Wilkinson
Course Promo Video
---
Testimonials
---
Course Overview
---
Something happened. It might have been yesterday. It might have been years ago. But it hurt. And it changed you. And unless you forgive those who wronged you, the heart wound will become infected and spread. Eventually, you can become a prisoner of your own wounded heart.
If the story ended here, you would be hurt beyond healing. But the Good News is, it is not finished.
In his creative, story-driven, highly motivating style, Bruce reveals from the words of Jesus Christ how you can find the freedom and peace your heart longs for.
Discover forgiveness that is for real and forever. 
Need More Workbooks?
This kit includes five workbooks.  Order any additional workbooks that you will need for your small group participants here.
Includes
When you order the 70X7 Leader's Kit, you will receive:
The Full course in Streaming Video fully mastered with 8 teaching sessions and a promotional video
Downloadable, Customizable promotional items including a Bulletin Insert, Customizable Ad, Flyer and Posters, Repro Graphics, and PowerPoint Promo Slides
The Freedom Factor: Finding Peace by Forgiving Others And Yourself softcover textbook (148 pages) by Bruce Wilkinson with Mark E. Strong
5 Course Workbooks in full color with fill-in the blanks that follow along with the video plus 40 days of companion devotional material, beautifully-designed charts, quotes and many other features.
---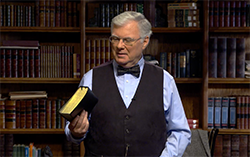 Get a Free Video Teaching Segment
When you subscribe to receive Teach Every Nation updates!
Subscribe to get special offers, free giveaways, and once-in-a-lifetime deals. We value & respect your privacy.