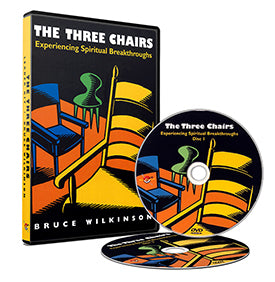 The Three Chairs: Experiencing Spiritual Breakthroughs DVD Series
Retail Price:
$ 29.00
| Ships Next Business Day.
Note: This classic Bruce Wilkinson teaching series, which was filmed in 1999 for standard definition TV, is available only in very limited quantities. Buy one now before they are gone forever!  Standard definition videos like this are best viewed in 4:3 perspective.
Chairs.
You probably have all different kinds in your house. Bruce Wilkinson uses the image of the chair to illustrate different levels of commitment to Christ. A careful study of these categories reveals that most Christians today have compromised their faith and live a life based on a worldly view of success.
Every Christian needs to be challenged to become what Bruce Wilkinson calls "first-chair Christians." First-chair Christians walk daily with God and desire that others share their level of commitment. Christians can experience spiritual breakthroughs no matter what chair they are sitting in! This video-based study will convict Christians about their walk with God; challenge them to repent to the Lord; and call them to a deeper level of commitment to live the teachings of Christ, which impact all generations. 
Session One: Experiencing Spiritual Breakthroughs in Your Life

Session Two: Experiencing Spiritual Breakthroughs in Your Marriage

Session Three: Experiencing Spiritual Breakthroughs in Your Family

Session Four: Experiencing Spiritual Breakthroughs with God
Each group session includes a video presentation featuring a dramatic vignette followed by Bruce Wilkinson's teaching. Participants spend the remaining group time in discussion and evaluation.

Dig Deeply
You'll also enjoy the remarkable hardcover book that accompanies this video series, entitled Experiencing Spiritual Breakthroughs.  Order it here.

Includes:
Two full color, standard definition DVDs in 4:3 perspective.
---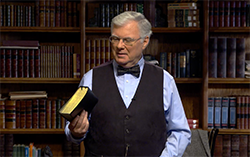 Get a Free Video Teaching Segment
When you subscribe to receive Teach Every Nation updates!
Subscribe to get special offers, free giveaways, and once-in-a-lifetime deals. We value & respect your privacy.