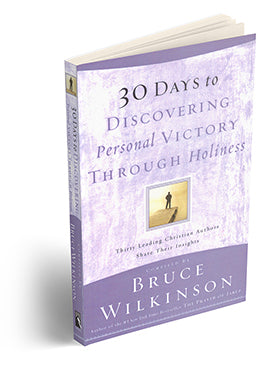 30 Days to Discovering Personal Victory Through Holiness
Retail Price:
$ 14.99
| Ships Next Business Day.
Thirty Leading Christian Authors Share Their Insights
Compiled by Bruce Wilkinson
"Create in Me a Clean heart, Oh God."
Are you bogged down in a spiritual swampland?  Do you crave more in your life, but find that something hinders your experience of deeper fellowship with Christ?
Imagine what would happen if you blasted out of the swamp?  Think of the possibilities... joy, peace, and revitalized relationships with God and others! 
Dr. Bruce Wilkinson's 30 Days to Discovering Personal Victory through Holiness is specifically crafted for the believer who's ready for change.  30 Days incorporates the wisdom of today's most influential Christian communicators, to reveal priceless insights on the disciplines of purity, managing anger, workaholism, telling the truth, overcoming sexual temptation, and more.  Contributors include:
Max Lucado |  Warren Wiersbe |  Ron Blue | Howard Hendricks | Neil Anderson | Tony Evans | Erwin Lutzer | Randy Alcorn | and many more
Each day offers a breakthrough that can change your life.  So go ahead.  Escape your spiritual swampland and experience the freedom and victory of "heart holiness!"
Get the Book this Was Designed to Accompany, too!
Although this devotional stands excellently on it's own, you can also get the book it compliments, Set Apart: Discovering Personal Victory Through Holiness. Order it here.
The DVD Series

There's nothing like hearing this enlightening series taught by Bruce Wilkinson himself.  Order the DVD course, The Three Chairs: Experiencing Spiritual Breakthroughs here.
---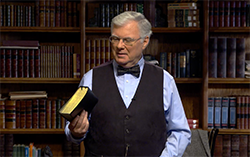 Get a Free Video Teaching Segment
When you subscribe to receive Teach Every Nation updates!
Subscribe to get special offers, free giveaways, and once-in-a-lifetime deals. We value & respect your privacy.